Beautiful Way
to Enhance Privacy for Your Home

Has your child(ren) ever walked in on you after taking a shower?  The picture above says it all.  So what can do you (besides lock your door)?  You could spend hundreds to thousands of dollars by purchasing a new shower stall with etched glass OR you can spend less than $200 to have close to the same effect.
This shower door is sand blasted and costs around $2,200.                              This shower door has decorative film and will costs around $150+
Also note that the more expensive glass doesn't offer you the privacy that the  film allows.  What happens if you want to change the look?  With our film it can be removed and replaced; however with etched glass, you need a whole new door.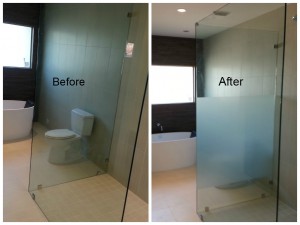 We applied this simple section of decorative film to hide the toilet from the shower in a Phoenix home.
More examples of our client's bathrooms.
Pictures of Other Uses for Your Home
  Privacy is important whether you are in your home or garage.  Film can applied in either location!