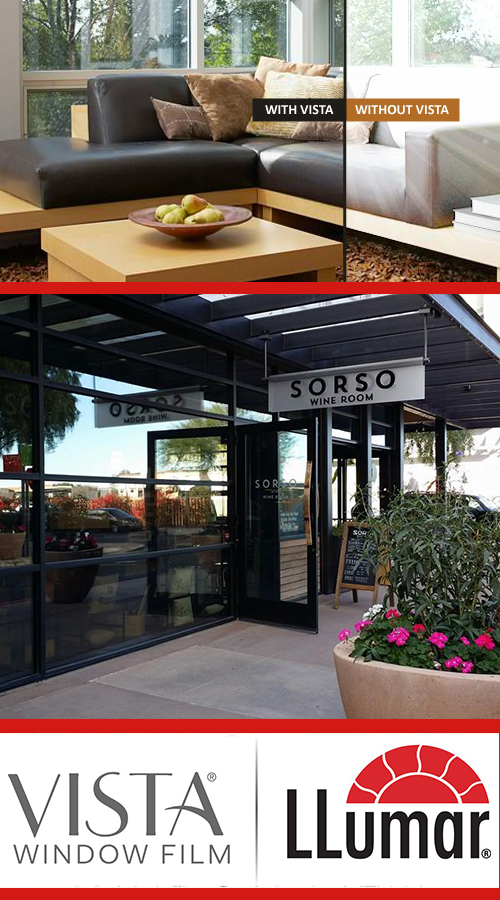 Window Films for Commercial Buildings and Homes
Vista window film is the premium brand of professionally installed architectural window films for homes and commercial buildings. Whether for new construction or retrofit projects, the application of Vista window film is one of the most effective and economical methods of controlling energy costs and increasing comfort. Learn what makes Vista the best window film brand.
Enhanced Energy Efficiency and Savings
Easily applied to a window's interior, Vista window film helps keep indoor temperatures comfortably consistent. Vista window film products can enhance the operational efficiency of a facility's HVAC equipment, by stopping as much as 75% of the sun's heat, reducing costly heating and cooling bills. Many utility companies encourage window film as a factor towards energy conservation.
Take the LEED on Energy
Save energy and reduce your impact on the environment with Vista window films. The window film products' safe and proven solar control properties help buildings qualify towards LEED certification. Reduce energy consumption by as much as 15% annually and assist with up to 9 LEED Green Building Certification Credits.
Preserve and Protect
Vista premium UV window film provides the highest level of UVA and UVB ultraviolet rejection by blocking up to 99.9% of harmful ultraviolet rays. The film's protective shield helps defend against the dangers of UV induced skin diseases and photosensitivity. The sun's UV rays are also the leading cause of fading in home interiors. Vista window film will help preserve the color brilliance of furnishings, fabrics and carpets.
Enjoy the View
Dark enclosed offices have become a thing of the past thanks to Vista heat control window film. Open the shades, blinds or draperies and let the sun in. With Vista window film products, you can work at a computer, and watch television freely, with up to 87% glare reduction, while controlling heat loss and/or gain.
Residential Window Film
Vista window films can help you lower your home cooling costs, save energy, and protect your furnishings from fading. For more information call Veteran Tinting and Blinds (623) 570-5585
Commercial Window Film
Unlike other solar-control only commercial window films, EnerLogic® film keeps solar heat gain out during summer and radiant heat in during winter. In this video, a commercial leasing agent and green architect explain why window tinting is their preferred building upgrade over traditional energy efficiency improvements such as HVAC and replacement windows. Call us at (623) 570-5585