Safety & Security Films for Commercial Applications
In today's world, crime, vandalism, terrorism, natural disasters, and everyday accidents are real concerns. Made with thick, heavy-duty polyester bonded by strong adhesives, Safety and Security Films provide an optically clear yet powerful barrier that helps hold glass in place should impact occur. Danger from wind borne debris, seismic tremors, and accidental impact can be greatly reduced. Safety and Security window film is also ideal for use in high traffic areas with windows or other surfaces vulnerable to "smash-and-grab" theft or vandalism.
Safety and Security Film Provides Cost-Effective Protection , Tested Tough, Our Safety and Security Window Film Meets the Most Stringent Standards
Suitable for a broad range of applications, our films offer safety and security, our films meet numerous certifications and test standards in the United States, Europe and around the world, including:
ANSI Z97.1 and CPSC 16 CFR 1201 Cat I and II
General Services Administration (GSA) and United Facilities Criteria (UFC)
ASTM Large Missile Level C and Small Missile requirements
Underwriters Laboratory UL972 Forced Entry requirements
Factory Mutual FM Approvals 4350 Small Missile
EN356, level P2A
Flexible Application
From corporate and retail to hospitality and educational applications, our high-performance safety and security films can help you control or even eliminate the danger and damage caused by broken glass in new construction and retrofit projects. Strong, clear safety and security films offer a broad range of solar and aesthetic solutions to compliment the demands of any commercial project.
Graffiti Defense for Commercial Applications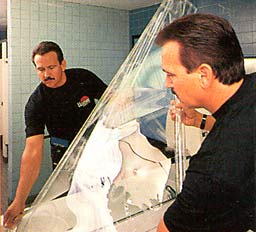 Reduce the Cost of Graffiti Removal
Many cities in the world are experiencing the growing problem of vandals tagging glass and other surfaces in public places using mechanical etching tools, acid, and paint.
Our anti-graffiti window film, also known as sacrificial film, is now the front-running solution to cost-effectively mitigate damage. These specially designed films, nearly invisible once installed, provide a removable, sacrificial surface that can reduce or eliminate the need for expensive glass replacement. A single replacement of just one window can easily exceed ten or twenty times the cost of film installation.
Simply Remove the "Tagged" Film
Whether they are applied to vertical or sloped glass, or mirrors or stainless steel, in malls, on buses, in office buildings or on subways, installation and replacement by professionally trained staff is quick and easy, avoiding the disruption caused by window replacement. When vandals strike, the film is simply removed along with the tags, revealing the unspoiled glass surface ready for the replacement sacrificial film.
Call Us For a Free On Site Estimate @ (623) 570-5585