Low-E Window Film
How EnerLogic Low-E Window Film Works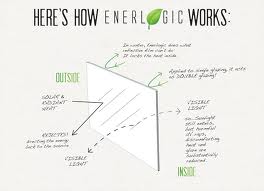 Outside
Solar and radiant heat reflect away from your glass so it will not enter into your home.
Visible light still transmits through your glass.
Blocks UV rays, which will protect your furnishings and window treatments (99.9% UV Protection)
Inside
Sunlight still enters, but the harmful UV rays are blocked, along with the annoying glare.
In winter, EnerLogic does with standard traditional film cannot do — keeps the radiant heat inside instead of it escaping through your glass.
When applied to single glazing, it performs as Double Glazing and when applied to double glazing, it performs as Triple Glazing
Cost of Low-E EnerLogic Window Film
The price for EnerLogic Low-E Window Film can range between $10-$12 per square foot.  The average ROI for EnerLogic Low-E Window Film is between 1-3 years.  Residential applications come with a lifetime transferable warranty.  Commercial warranty is 10-15 years. The price for new or replacement Low-E Glass can range between $30-$55/sq foot. For more information about EnerLogic, please click here to be redirected to their website.
What does it look like The pictures below has EnerLogic 35 installed, which is what is primarily installed in Phoenix, AZ area due to our hot summers.  The reflectance of the film is the same as a Low-E Window (outside).  You will see the very subtle difference (visible light) on the interior, while still reducing up to 76% of the heat, and 63% of the glare.