V-KOOL® is the leading clear window coating that solves the visibility and appearance problems of conventional window tints and reflective films, while significantly reducing solar heat build up.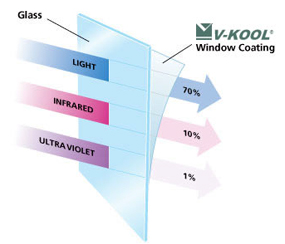 The sun's infrared heat streaming through windows can cause inside temperatures to climb, driving up air conditioning costs. But until recently, there were only a few, limited ways you could deal with this heat problem.
The Fitting Solution
To ensure a quality fit, V-KOOL is applied by highly trained professional installers, and all work is fully guaranteed. Every installation comes with a limited lifetime warranty that guarantees V-KOOL will perform to stated specifications without fading, discoloration, cracking, peeling, bubbling, adhesive failure, delaminating or demetallizing.
Enjoy the Beauty. Keep Out the Beast.
Enjoy the ultimate protection from scorching infra-red heat and destructive UV rays without losing the sunlight or spoiling your home's architectural integrity
Energy Star Building Ally
Investing in V-KOOL technology is also investing in the environment. Through significant energy conservation, V-KOOL technology contributes to lowering energy consumption, and air pollution worldwide. This commitment and effort has been recognized by the U.S. Environmental Protection Agency (EPA), a governmental agency overseeing environmental conservation. V-KOOL Inc. has been awarded the prestigious Energy Star Building Ally marque.
Call Us For a Free On Site Estimate @ 1-623-570-5585